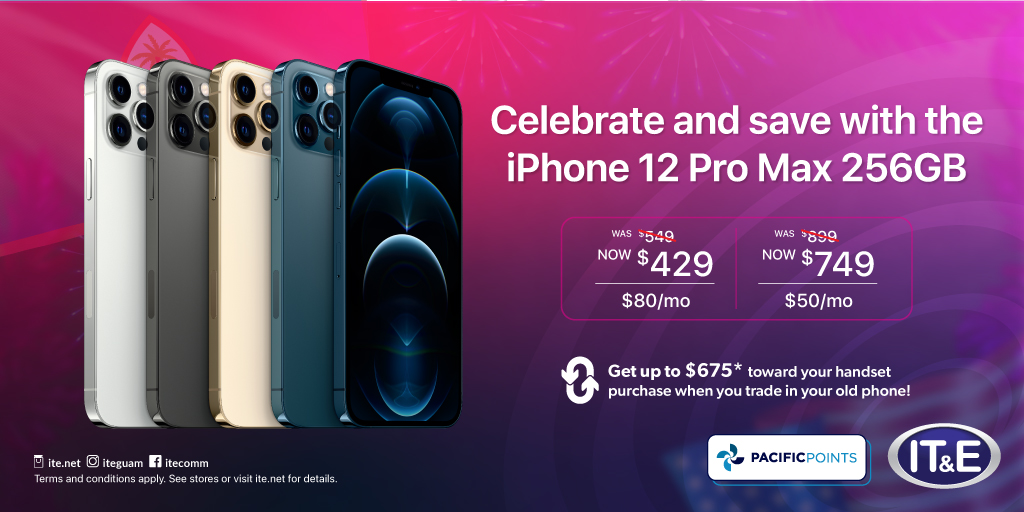 There's a lot to love about the iPhone 12 Pro Max, and for a short time only you can get as much as $120 discount or even get it for FREE!
Could the iPhone 12 Pro Max really be  . . . FREE?
You could have a powerful smartphone and camera in your hands for FREE if you trade in your old phone. If you don't have a phone to trade in, you can still get as much as $120 off.
From now until July 31, get as much as $120 off the iPhone 12 Pro Max (256 GB) on select plans. With this discount you can bring home the device for $429 when you sign up on the $80 Unlimited Data Plan or $749 when you sign up on the 10GB $50 Postpaid Plan.
Get a credit of up to $675 toward your iPhone 12 Pro Max purchase when you trade in your old phone. That means you could get it for FREE, then use the remaining credit to purchase accessories for your new phone! The trade-in value is dependent on the condition of your device. Learn more about our Trade-in Program and see if your phone is eligible here.
What you'll love about the iPhone 12 Pro Max
When you first see and touch the iPhone 12 Pro Max, you'll notice the quality. It's built to be almost indestructible – with a ceramic shield tougher than any smartphone glass and a frame made from surgical-grade stainless steel.
Then, when you learn about what the iPhone 12 Pro Max can do, you're sure to be amazed. With its A14 Bionic chip – the fastest chip on a smartphone and its pro-grade camera, the iPhone 12 Pro Max is capable of great things.
Its camera is equipped with Optical Image Stabilization (OIS), Deep Fusion and a LiDar Scanner to produce high-quality photos. It has a pro 12MP camera system with ultra-wide, wide and telephoto cameras and can shoot HDR video.
But what does all that really mean for photos and video? If you're considering the iPhone 12 Pro Max, here are a few things you should know about the camera.
Machine learning for the best photo every time
Having the iPhone 12 Pro Max is like having a tiny robot programmed to take amazing photos. Smart HDR 3 machine learning in the device automatically adjusts every photo taken to produce the most captivating image – from refining highlights, shadows and contours to adjusting white balance.
You simply snap and the camera does all the work for you.
Plus, you could take creative control with your images with Apple's ProRAW format if you wanted to. Take pro and uncompressed photos anytime, anywhere.
Better photos at night, in low light and from afar
A lot of times you want to capture a moment, but the conditions aren't the best. There's not enough light on the beach during the evening or your subject has their back to the sunset. Maybe you're too far from the stage to get that photo of your loved one performing.
The iPhone 12 Pro Max was built for these moments. It can capture vivid color and details in almost any lighting condition. Night photos have unprecedented detail and colors are true to life. Dolby Vision recording allows you to take video with 60 times more colors.
Telephoto camera allows you to take close-up detail without you having to be up close. Imagine seeing every bump on a basketball.
You'll be able to look back on photos and videos and see details you may not have noticed the first time.
Steady images and video
Shots taken on the iPhone 12 Pro Max are steady — even when you're not.
The device has DSLR technology to give you more stabilization.  A DSLR is the camera you see professional photographers use at photo shoots. This is the first time such technology adapted to for iPhone.
Learn more about how you can get a discount on the iPhone 12 Pro Max by chatting with a Customer Service Representative online .