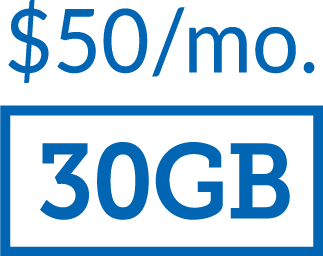 Get 30 GB of 4G LTE data for just $50/mo. Don't miss out! This plan is only available until May 6.
How long will this promotion be available?
This promotion will be ongoing from April 05 – May 06
If I am currently on the $50 Plan for 10GB will I receive 30GB?
No, promotional data bucket is for new activations or renewals only
Can I upgrade to the $50 Plan for 30GB, if I am currently on a lower plan?
Yes, you may upgrade from your current plan and sign an extended agreement for a 2-year contract
Can I subscribe to the $50 Plan for 30GB on the Bring Your Phone Plans?
Yes, you can receive up to 3 months of free service when you bring your phone and sign a 1 or 2-year contract on the $50 Plan for 30GB
Can other discounts be combined with this promotional offer?
Yes, other discounts such as military discount can be combined with this offer