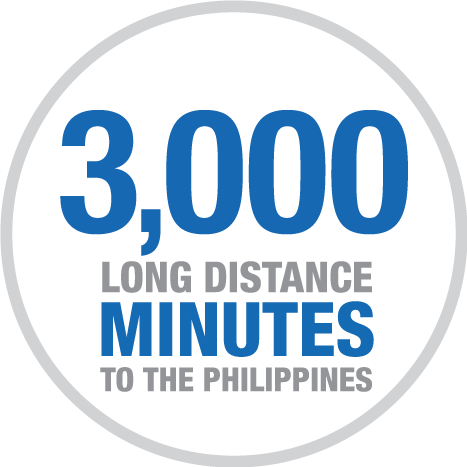 Get 3,000 long distance minutes to five (5) Globe numbers in the Philippines for only $15 a month!
Available to Postpaid and Prepaid wireless customers.
*Applicable for outbound calls to five (5) Globe phone numbers (per 30 days)
*$15 for every 30 days
*After 3,000 minutes are depleted, long distanced rates apply.
How to subscribe/unsubscribe?
Postpaid: To subscribe, dial *85 before the desired phone number to activate.
Prepaid: To subscribe, Text "KABABAYAN" to 3282. Must have sufficient funds in your account before subscribing.
Plan will automatically unsubscribe once the 30 day period is over. The $15.00 Motion Kababayan fee is not reccuring.
How to register the five (5) Globe numbers?
The first five outbound calls to the Philippines with a Globe number will automatically be registered to the Motion Kababayan.
When will you be charged the $15 rate?
Postpaid: You will be charged the $15 rate once you make your first call using the *85 dialing pattern with the desired Globe phone number.
Prepaid: You will be deducted $15 automatically from your prepaid account once you send the text via shortcode KABABAYAN 30 to 3282
Will the leftover minutes carry over to the next period if they aren't all used within 30 days?
The minutes will not be carried over to the next 30 days.
What if I don't use the *85 dialing pattern?
If you do not use the dialing pattern, you will be charged regular outbound rates to the Philippines.
Am I able to change any of the five registered Globe phone numbers?
You won't be able to make any changes to your five registered Globe phone numbers until after 30 days.