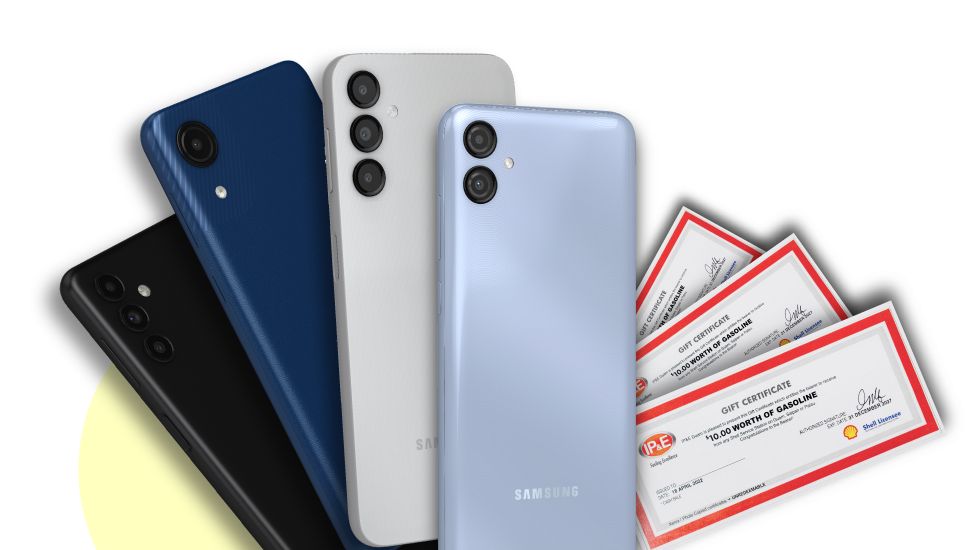 FREE $10 Shell fuel
with purchase of ANY Samsung unit.
Fuel your vehicle and your connections with Shell and IT&E
Don't let your wallet or your car run on empty! Get a FREE $10 Shell fuel voucher when you purchase ANY Prepaid Samsung phone at Shell stations from July 1 to August 31, 2023.
Enjoy the benefits of affordable connections:
Samsung phones have the features you want at a reasonable price, including sleek designs, quality screen display, fast performance, and impressive cameras. Take your pick from eligible devices on Guam, including the Samsung Galaxy A13, A03 Core, A14, and A04e; or in the CNMI, including the Samsung Galaxy A03 Core and A04e.
A wide selection of Daily Prepaid Plans to meet your budget and needs, including UNLIIMITED data, talk, text, and calls to the U.S. for only $2.50 per day.
Value-packed 7-day or 30-Day plans with UNLIMITED local calls and text, calls to the U.S. and daily data buckets to keep you connected.
Coverage on the widest network in Guam and the Marianas
Plus, turn your load and fuel purchases into rewards with the PACIFICPOINTS loyalty program. Visit PACIFICPOINTS.COM to see how you can earn more FREE Shell fuel, FREE items at Foody's Guam, FREE $10 IT&E Prepaid, and United MileagePlus Miles.
FREE fuel, plus a a great phone, and the best service provider in the region – what a great combination!
Enter to WIN more $1,000 in FREE fuel or 60,000 miles
You could score $1,000 in Shell fuel or 60,000 United MileagePlus Miles in the Miles of Possibilities giveaway. Earn DOUBLE ENTRIES to the giveaway every time you purchase & load a $20 or $10 Prepaid card from Shell Stations.
Two lucky Prepaid subscribers per region will be selected every month from now until December to win and it could be you! Once you enter, you're eligible to win any of the monthly giveaways. Be sure to keep your Prepaid number active so we can contact you if you win.
Don't wait! DOUBLE ENTRIES at Shell is only available until August 31, 2023.